We are a progressive company that aims to please all clients despite their gender, gender identity, sexual identity, or partner. While we often use the terms "bride" to refer to a female, what we really mean to discuss is the dress, no matter who is to wear it. We have put together beautiful suiting for female-identifying folks. We have put together beautiful dresses for male-identifying folks.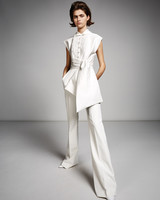 While our language may sometimes be insensitive – something we're working on – we want to be clear: despite how you identify and who you love, we'd be happy to dress you for your wedding! Some of the questions we may ask you during the consultation and its scheduling refer to your own pronouns and identity – this is to ensure that we gender you and your partner appropriately, that the dress we make you suits your needs and taste, and that you know you are in a safe space whenever you are working with us.  
 Let us dress you up, suit you up, dress you down, suit you down – whatever you need!